As another Lame Cherry exclusive in matter anti matter.
Let us review........
President Trump goes to the DC Swamp, breathes in toxic fart gases of Nancy Pelosi and Maxine Waters, and immediately becomes hostage to Katie Walsh, who locks the door to Christians and Conservatives, and so poisoned by toxic swamp gas, the President believes Mike Pence and Paul Ryan over Obamacare 2.0
The dangers of hydrogen sulfide Posted on March 25, 2013 by SST. Hydrogen sulfide is a toxic and flammable gas known by several different names including sewer gas ...

Are Septic System Fumes Dangerous or Hazardous. ... Marsh or swamp gas As you know, marsh or swamp gases are very detrimental because of the methane.

Max Yoder, age 8, of Kingfisher, Okla., for his question: Is swamp gas dangerous? Swamp gas sometimes mixes with the air above bogs and swampy marshes.
It becomes worse as no one opens the windows at the White House, as the Secret Service allows a new Olympic sport of jumping the White House fence to get more money for their budget, and the President starts handing out office space to the Trumpenfuror and Dummkopf.
But let the President be among Virginian flora and fauna, and Ron Paul and the official bookkeeper and voila, just like that, you have Donald Trump praising his good friends at the Freedom Caucus.
Trump told the Financial Times that members of the caucus were "friends of mine."
It even becomes better as that Reince Priebus twat with teeth Sean Spicer is no longer speaking for President Trump, but now we have First Lady Melania Trump's fine communications director speaking for the President.
Story highlights. Stephanie Grisham will serve as Melania Trump's communications director; She is currently White House deputy press secretary

cnn.com
/2017/03/27/politics/melania-trump-stephan.
The outing to Trump National Golf Club came hours after Trump tweeted that talks on replacing the law have been going on and "will continue until such time as a deal is hopefully struck."
He added that anyone who thinks the effort is dead "does not know the love and strength in R Party!"
Trump golfed and discussed policy with Paul and budget director Mick Mulvaney, said White House spokeswoman Stephanie Grisham.
Paul came out strongly against the House GOP legislation, and its collapse humiliated Trump in the early days of his administration. After their golf excursion, Paul struck a positive tone, calling it a "great day" with the president.
And White House Spokewoman is another woman with brains and beauty, who did not need Ivanka Kushner throwing little boys out of school for little girls. Bravo on Ms. Grisham.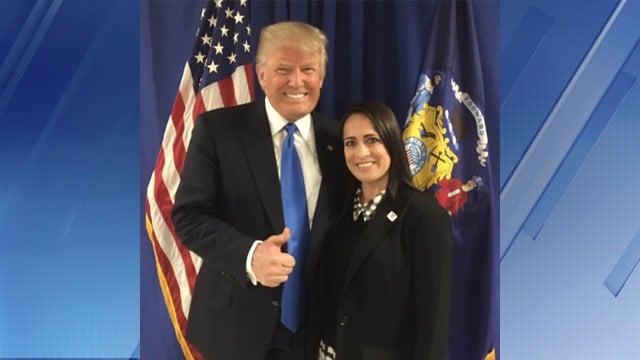 Stephanie Grisham worked on the presidential campaign of Donald Trump. As Grisham is from Arizona, she initially helped set up Trump's Arizona rallies, but she ...
The last wonder is that as Donald Trump taught Americans how to fight the system, that he now has the Freedom Caucus beginning to stand up and fight as the force to save America..........
On CNN's "State of the Union" on Sunday, a member of the caucus, Rep. Jim Jordan, R-Ohio, responded to those attacks. He said "tweets and statements and blame don't change facts. And the facts remain the same. When you look at the document, when you look at the legislation, it doesn't repeal Obamacare."
Very good Mr. President, as now the fake press is attacking that traitor Mike Pence for keeping that mob head wife of his chained to the bed, and Paul Ryan is hiding under some cheese in Wisconsin, while the adults are in the room with you, preparing to drain the swamp.
Wonderful day in golfing with the astute Senator Rand Paul.............and perhaps Mr. President next week you could golf with the accomplished Rep. Tom Emmer of Minnesota's 6th District.
Some might say he should have been your choice for Vice President in 2016, and that Rep. Emmer definitely is the right choice for a Trump Emmer 2020 ticket.
Minnesota Republican Rep. Tom Emmer blamed moderate Republicans for the failure ... "So you had the vast majority of the Freedom Caucus that was already ...
Tom Emmer could beat up the entire Congress with the Marines having bazookas.
Chuck Norris even is scared of this guy.
So we have President Trump now leading the Republicans, and the Rhino GOPliters are back in the bushes ranting with Jeb Bush for America to take to the streets protesting robots.
Maybe it was a Putinborg that did all that hacking there Jeb, eh?
agtG