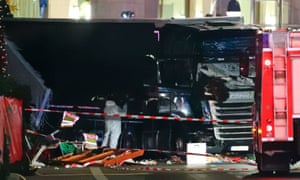 Police said the lorry came from the direction of Budapester Strasse, over the pavement, before coming to a halt by a Christmas tree in front of the Kaiser Wilhelm church.
As another Lame Cherry exclusive in matter anti matter.
It seems Obama is the gift which keeps on giving, for in 2008, doped up drunken Germans were plied to come out and oggle Birther Hussein at the Gate for a speech, and now with image Obama on it's way out, here comes a Chechen from Russia with love, murdering Pollacks and hijacking trucks to terrorize Germans in mowing them down better than with bombs or bullets.
Odd about these Chechens in there does not seem to be suicide drivers in them, and odd thing about Germans, in not being like French who actually kill terrorists who run over their citizens.
In inquiry, the matrix indicates that this was not some random event. Let us just speak in fairy tales of perhaps some group which was seeking to influence some nation's elections, as some pater pope's treacherous minion was importing all sorts of Obama Muslim Rape Cock invaders, which were Muslim cock raping Germans.
This is a version not found in Aesop's Fables or Hans Christian Andersen Tales, but I have never read the extended versions.
My heartfelt sympathies though to the German people. Granted this would not have happened to Germans under the Kaiser, Adolf Hitler, Aribus and basically everyone as Germans would never have allowed themselves to become bratworsted.
The old maxim was beware of Greeks bearing gifts. It seems Germans should have been aware of Obama's bringing beer and that is probably enough to be aware of in this Brother's Grim Tale.
agtG
Als weitere Lame Cherry exklusiv in Materie Anti-Materie.





Es scheint, dass Obama ist das Geschenk, das hält, denn im Jahr 2008 doped up betrunkenen Deutschen wurden gekommen, um herauszukommen und Oggle Birther Hussein am Tor für eine Rede, und jetzt mit Bild Obama auf dem Weg nach draußen, hier kommt ein Tschetschene aus
Russland mit der Liebe, ermordet Pollacken und entführt Lastwagen, um die Deutschen zu terrorisieren, wenn man sie besser mäht als mit Bomben oder Kugeln.



Seltsam über diese Tschetschenen dort scheint es nicht, Selbstmordfahrer in ihnen zu sein, und seltsame Sache über die Deutschen, in nicht wie Franzosen, die tatsächlich töten Terroristen, die über ihre Bürger laufen.



In der Anfrage zeigt die Matrix an, dass dies kein zufälliges Ereignis war.
Lassen Sie uns nur in Märchen von vielleicht einer Gruppe sprechen, die versucht, die Wahlen einer Nation zu beeinflussen, da der tückische Diener eines paterischen Papstes alle Arten von Obama-Moslem-Vergewaltigungshahn-Eindringlingen importierte, die muslimischer Hahnvergewaltigung von Deutschen waren.

Dies ist eine Version nicht gefunden in Aesop Fables oder Hans Christian Andersen Tales, aber ich habe nie die erweiterten Versionen gelesen.


Meine herzlichen Sympathien für das deutsche Volk.
Das hätte den Deutschen unter Kaiser, Adolf Hitler, Aribus und im Grunde genommen niemand passieren können, denn die Deutschen hätten es niemals erlaubt, brüderlich geworden zu sein.


Die alte Maxime war hüten von Griechen mit Geschenken.
Es scheint, die Deutschen hätten wissen müssen, ob Obamas Bier mitbringt, und das ist wahrscheinlich genug, um sich in dieser Brudergrim-Geschichte bewusst zu sein.








AgtG