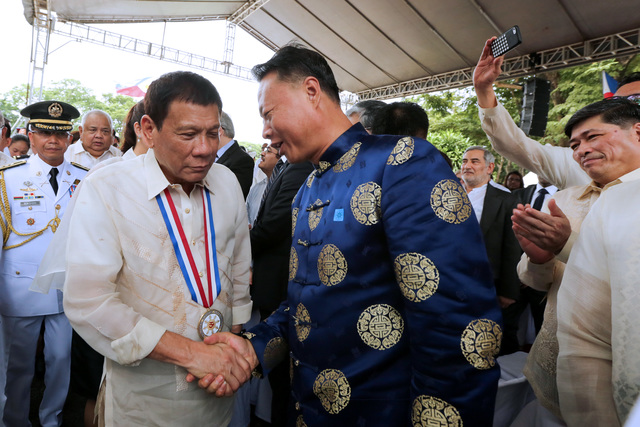 As another Lame Cherry exclusive in matter anti matter.
Most of you are not thinking about the disaster of Eurasia under Obama Clinton Kerry, but when the bombs start killing you, then I suppose you will demand attention in having it all explained again.
The subject is the Philippines and
President Dutrete,
who I actually like and would enjoy having him for an interview here, but who due to Son of a Whore Obama, is busy browsing in Peking, pretending he is a leader in the world.
Philippines' Duterte, in China, announces 'separation' from USA...
'America has lost'...
Obama Admin 'Baffled'...
Obama regime baffled, because the Birther imprinted liking having rocks thrown at him in Indonesia as a child, and now when the chimp in the zoo is tossing turds at image Obama after a Chinaman cuddle, these Obama leftists do not understand that shit tossing is not a compliment.
See no one ever writes of the Philippines unless it is blaming America for colonialism, but you have to know the reality of what the history really is.
See the Filipino were various tribes of sometimes cannibals. The Chinese set up traders in Manila and embedded their bloodlines in, and then the Spanish came and took possession and it was not until the Americans liberated the American Sphere of the Spanish colonial empire of Cuba and Puerto Rico, that the Filipinos were thrown into the mix of being an American Protectorate.
The MacArthur's very much pampered the Filipinos who were basically children and for the most part still are, while acting the part of adults. The Filipino is racist like all Asians are racist, but they have an absolute God worship of White Skins as in Americans which permeates the culture.
The Philippines is a hot, muggy European type situation, of a very nice race of people with typical flaws.
The Japanese handled their cannibals effectively on their Philippine possessions in simply putting electric wire around them, and then hunting the whole group down to genocide. The Americans were more humane in converted from Roman Catholic head hunters to Roman Catholic non head hunters.
The Japanese made a visit again in World War II and cleaned the population out again, and MacArthur returned and Ferdinand Marcos reigned, until the nitwit leftists in America wanted to make the Philippines another communist outpost.
With the Americans gone, American bribery got the Americans back in, so this love hate relationship is ongoing.
In the South there are Niggers and Muslims, dumped there by the Spaniards trying to get rid of their problems, who are now terrorists, with Oklahoma City links. In the north is the various tribes and the Chinese mix.
The current President who thinks mimicking Kim Jon Un of North Korea in loud things, is from the South and made a practice of dealing with crime and terrorists the old fashioned way in feeding them to the sharks.
Mix in most of these breeds with Spanish names and that is the Philippines with their foreign ruler cocks taking the virgins for a ride.
This is the stage now in President Duterte is rounding up dopers and killing them with volunteers and the police. He looks at Obama who is a half breed from a Filipino mum........yes if you review the Barack Obama sr. admissions to immigration, he stated his wife was IN THE PHILIPPINES. She is the woman in the dock photo posed with Sr., as she was his anchor wife.
No Anna Chin was not an American, but a communist Filipino, but you get the idea, as she had Indonesian connections too, and that is where Birther Hussein ended up as a Muslim citizen.
Indonesia was another Asian shit hole as the CIA helped the Muslims conduct ethnic cleansing with the Soetoro clan who raised Barry Soetoro.
So that is the history and why the Lame Cherry exclusively reported that Birther Hussein told the last el presidente of the Philippines that the most important people in the world were Filipino mongrels as Obama is one of them.
President Duterte knows Obama is the Son of a Whore, and detests the image as normal people would.
This brings us to Obama sending Bill and Hillary Clinton over to China for cash for Obama communism in America, and handing prizes out to China and Russia of Asian property, and now China is building islands in the South China Sea, and Duterte is sharing the Rice Bowl in Peking, talking about fishing rights, which the Chinamen will agree to, in order to get the Philippines into the Peking orbit as Duterte talks about joint energy ventures with China, which el presidente does not yet comprehend means China will view the Philippines as their property, with the advantage that they have Chinese ethnics inside the Philippines to protect.
So this is another disaster of the Obama regime, with Hillary Clinton and the Foundation money laundering and John Kerry droning on about how great the world is under communism. This is the Obama Clinton reset and focus on China, which has Chinese warships in the Pacific and Indian Oceans and American nuclear bombers ringing it all in.
The wonderful part is all of you nitwits are being distracted by Hillary Clinton's lies about President Elect Donald Trump, while you are being made nuclear targets.
The moron always points to North Korea, but the new trip wire is President Duterte in the Philippines, who should have been sat down long ago and be told the Americans saved the Philippines from two empires and the Filipinos are ungrateful children who might be just handed over to China, so the war will be fought there, and when it is over, the Americans will repopulate the island with some type of primates who comprehend on which side of the bars in the zoo they are in.
President Duterte likes bragging about being taken out by the American CIA. It is past time that he be made aware that there are things worse than death, and that is existence under Hillary Clinton.
Mr. President, get your shit together and stop acting like jungle monkey riding a carabao.
Rodrigo Duterte Throws a Grenade in Washington's China Strategy Philippine leader's rant represents another headache for the U.S. from an Asian ally

Philippine President Rodrigo Duterte said he's considering buying weapons from Russia and China while also ending joint patrols with U.S. forces in the ...
Nuff Said
agtG
Bilang isa pang Lame Cherry eksklusibong sa bagay na anti matter.

Karamihan ng ikaw ay hindi nag-iisip tungkol sa mga kalamidad ng Eurasia ilalim Obama Clinton Kerry, ngunit kapag ang mga bomba simulan ang pagpatay sa iyo, pagkatapos ipagpalagay ko ikaw hinihiling ng pansin sa pagkakaroon ng lahat ng ito ipinaliwanag muli.

Ang paksa ay ang Pilipinas at Pangulo Dutrete, na ako ang tunay na gusto at nais tamasahin pagkakaroon ng kanya para sa isang interbyu dito, ngunit na dahil sa Anak ng isang Obama Whore, ay abala sa pag-browse sa Peking, nagpapanggap siya ay isang lider sa mundo.

Tingnan walang kailanman magsusulat ng Pilipinas maliban kung ito ay bigay-sala Amerika para kolonyalismo, ngunit kailangan mong malaman ang katotohanan ng kung ano ang kasaysayan ay tunay na.

Tingnan ang mga Filipino ay iba't-ibang tribo ng minsan cannibals.
Ang Intsik-set up mangangalakal sa Maynila at naka-embed na kanilang bloodlines in, at pagkatapos ay ang mga Espanyol ay dumating at kinuha pag-aari at ito ay hindi hanggang ang mga Amerikano liberated sa American Sphere ng mga Espanyol kolonyal imperyo ng Cuba at Puerto Rico, na ang mga Pilipino ay itinapon sa
ihalo ng pagiging isang Amerikanong ipinagtatanggol na lugar.

Ang MacArthur ni very much layaw ang mga Pilipino na mga talaga mga anak at para sa pinaka-bahagi ay pa rin, habang kumikilos ang bahagi ng mga matatanda.
The Filipino ay racist tulad ng lahat ng Asians ay rasista, ngunit mayroon silang isang ganap na pagsamba sa White skin Diyos tulad ng sa mga Amerikano na permeates ang kultura.
Ang Pilipinas ay isang mainit, maalinsangan European type sitwasyon, ng isang napaka-gandang lahi ng mga tao na may mga tipikal flaws.

Ang Hapon hawakan ang kanilang cannibals epektibo sa kanilang Philippine ari-arian sa lamang ng paglagay electric wire sa kanilang paligid, at pagkatapos ay pangangaso sa buong grupo pababa sa pagpatay ng lahi.
Ang mga Amerikano ay mas makatao sa convert mula sa Roman Catholic head hunters sa Roman Catholic di hunters ulo.

Ang Hapon ginawa ng isang pagbisita muli sa Ikalawang Digmaang Pandaigdig at nalinis populasyon out muli, at MacArthur bumalik at nagharing Ferdinand Marcos, hanggang sa tanga leftists sa Amerika nais na gawin ang Pilipinas ng isa pang komunista guwardya.

Gamit ang mga Amerikano nawala, American panunuhol got ang Amerikano bumalik sa, kaya ang pag-ibig hate relasyon ay patuloy.

Sa South mayroong Niggers at Muslim, dumped doon ng mga Kastila trying sa kumuha alisan ng kanilang mga problema, na ngayon terrorists, may Oklahoma City links.
Sa hilaga ay ang iba't-ibang tribo at ang mga Intsik mix.
Ang kasalukuyang Pangulo na thinks paggaya Kim Jon Un of North Korea sa malakas na bagay, ay mula sa South at ginawa ng isang pagsasanay ng pagharap sa krimen at terorista ang lumang moderno paraan sa pagpapakain sa kanila sa mga pating.

Ito ang yugto na ngayon sa President Duterte ay rounding up dopers at pagpatay sa kanila sa mga boluntaryo at mga pulis.
Tinitingnan niya Obama na isang half lahi mula sa isang Pilipino mum ........ yes kung iyong suriin ang Barack Obama sr.
admissions sa imigrasyon, sinabi niya ang kanyang asawa ay SA PILIPINAS.
Siya ay ang babae sa dock photo posed sa Sr., bilang siya ay ang kanyang anchor asawa.
No Anna Chin ay hindi isang American, ngunit ang isang komunista Filipino, ngunit ikaw makakuha ng ideya, pati na siya ay nagkaroon ng Indonesian koneksyon masyadong, at na kung saan Birther Hussein napunta bilang isang Muslim na mamamayan.

Indonesia ay isa pang Asian shit hole bilang ang CIA nakatulong ang Muslims magsagawa ethnic cleansing sa Soetoro clan na itinaas Barry Soetoro.

Kaya na ang kasaysayan at kung bakit ang Lame Cherry eksklusibo iniulat na Birther Hussein sinabi sa huling el presidente ng Pilipinas na ang pinakamahalagang tao sa mundo ay Pilipino mongrels bilang Obama ay isa sa kanila.

President Duterte alam Obama ay ang Anak ng isang kalapating mababa ang lipad, at kinasusuklaman ang imahe bilang normal na tao ay.

Dinadala tayo nito sa Obama pagpapadala Bill at Hillary Clinton sa paglipas ng sa China para sa cash para sa Obama komunismo sa Amerika, at handing prizes sa China at Russia ng Asian ari-arian, at ngayon China ay pagbuo ng mga isla sa South China Sea, at Duterte ay pagbabahagi ng
rice Bowl sa Peking, pakikipag-usap tungkol sa mga karapatan ng pangingisda, kung saan ang Chinamen ay sumasang-ayon sa, upang makuha ang Pilipinas sa Peking orbit bilang Duterte talks tungkol joint enerhiya ventures sa Tsina, na kung saan el presidente ay wala pang naiintindihan nangangahulugan China ay tingnan ang Pilipinas
bilang kanilang ari-arian, na may bentahe na sila ay may Chinese ethnics sa loob ng Pilipinas upang protektahan.


Kaya ito ay isa pang kalamidad ng rehimeng Obama, na may Hillary Clinton at ang Foundation money laundering at John Kerry droning sa tungkol sa kung paano mahusay na ang mundo ay sa ilalim ng komunismo.
Ito ang Obama Clinton reset at focus sa China, na may Chinese warships sa Pacific at Indian Oceans at American nuclear bombers tugtog lahat ng ito sa.


Ang kahanga-hangang bahagi ay ang lahat ng sa iyo nitwits ay hindi ginulo sa pamamagitan Hillary Clinton ni kasinungalingan tungkol kay Pangulong Elect Donald Trump, habang ikaw ay ginawa nuclear target.


kulang-kulang Ang laging tumuturo sa North Korea, ngunit ang mga bagong trip wire ay Pangulo Duterte sa Pilipinas, na dapat ay naupo matagal na ang nakalipas at ay sinabi ang mga Amerikano na-save ang Pilipinas mula sa dalawang empires at ang mga Pilipino ay walang utang na loob sa mga bata na maaaring maging lamang kamay
sa paglipas ng sa Tsina, kaya ang digmaan ay fought doon, at kapag ito ay higit sa, ang mga Amerikano ay repopulate isla na may ilang mga uri ng primates na maunawaan sa kung aling bahagi ng bar sa zoo ang mga ito sa.


President Duterte may gusto sa paghahambog tungkol sa pagiging kinuha sa pamamagitan ng sa American CIA.
Ito ay nakalipas na panahon na siya ay ginawa ng kamalayan na may mga bagay na mas masahol pa kaysa sa kamatayan, at iyon ay pag-iral sa ilalim Hillary Clinton.




Mr. President, kumuha ng iyong shit sama-sama at itigil kumikilos tulad gubat unggoy nakasakay sa kalabaw.
Zuòwéi lìng yīgè bǒzi yīngtáo dújiā zài wùzhí fǎnwùzhí.


Nǐmen zhōng de dà duōshù rén bìng méiyǒu xiǎngdào àobāmǎ kèlíndùn kè lǐ de ōu yà dàlù de zāinàn, dànshì dāng zhàdàn kāishǐ shā sǐ nǐ shí, wǒ xiǎng nǐ huì xūyào zhùyì, ràng tā zàicì jiěshì.


Zhǔtí shì fēilǜbīn hé zǒngtǒng dù tè léi tè, wǒ shíjì shang xǐhuān hé xǐhuān yǒu tā zài zhèlǐ de cǎifǎng, dàn shuí yīnggāi shì yīgè àobāmǎ de érzi, zhèng mángyú zài běijīng liúlǎn, jiǎzhuāng tā shì shìjiè shàng de lǐngdǎo zhě.


Kàn dào méiyǒu rén céng xiěguò fēilǜbīn, chúfēi tā bǎ měiguó guījiù yú zhímín zhǔyì, dàn nǐ bìxū zhīdào lìshǐ zhēnxiàng de xiànshí.


Kàn fēilǜbīn shì yǒushí shí rénzú de bùtóng bùluò. Zhōngguó zài mǎnílā jiànlìle màoyì shāng, bìng jiāng tāmen de xuètǒng qiànrù qízhōng, ránhòu xībānyá rén láile bìng duóqǔle cáichǎn, zhídào měiguó rén jiěfàngle xībānyá zhímíndì dìguó de gǔbā hé bōduōlígè dì měiguó qiúchǎng, fēilǜbīn rén bèi rēng jìn zuòwéi měiguó bǎohù guó de hùnhé.


Màikè'āsè fēicháng chǒng'ài fēilǜbīn rén, tāmen jīběn shàng shì háizi, dà bùfèn réngrán shì, ér xíngdòng de chéngnián rén de yībùfèn. Fēilǜbīn rén shì zhǒngzú zhǔyì zhě, xiàng suǒyǒu yàzhōu rén dōu shì zhǒngzú zhǔyì zhě, dàn tāmen yǒu juéduì de shàngdì chóngbài bái pífū, měiguó rén shèntòule wénhuà.

Fēilǜbīn shì yīgè yánrè, mēnrè de ōuzhōu xíng qíngkuàng, shì yīgè fēicháng piàoliang de zhǒngzú de rén yǒu diǎnxíng de quēxiàn.


Rìběn rén zài fēilǜbīn de cáichǎn shàng yǒuxiào de chǔlǐle tāmen de shí rénzú, zhǐshì jiǎndān de zài tāmen zhōuwéi fàng diànxiàn, ránhòu dǎliè zhěnggè tuántǐ jìnxíng zhǒngzú mièjué. Měiguó rén cóng luómǎ tiānzhǔjiào tóu lièréndào tiānzhǔjiào fēi tóu lièrén de zhuǎnbiàn gēng jiā rén dào.


Rìběn rén zài dì èr cì shìjiè dàzhàn zàicì fǎngwèn, bìng qīngchúle rénkǒu zàicì, màikè'āsè fǎnhuí hé fèidínándé mǎ kēsī tǒngzhì, zhídào měiguó de zuǒpiēzi, xīwàng shǐ fēilǜbīn lìng yīgè gòngchǎn zhǔyì qiánshào.


Suízhe měiguó rén zǒule, měiguó huìlù ràng měiguó rén huílái,​​suǒyǐ zhè zhǒng ài hèn guānxì zhèngzài jìnxíng.


Zài nánfāng yǒu xībānyá rén hé mùsīlín, xībānyá rén shìtú bǎituō tāmen de wèntí, shuí xiànzài shì kǒngbùfèn zi, yǔ é kèlā hé mǎ chéng de liànjiē. Zài běifāngshì gè zhǒng bùluò hé zhōngguó de hùnhé.

Dāngqián de zǒngtǒng, rènwéi mófǎng cháoxiǎn de jīnzhèng'ēn zài xiǎngliàng de dōngxī, shì láizì nánfāng, bìng zuò yīgè chǔlǐ fànzuì hé kǒngbù fèn zi de xíguàn yǐ lǎorén de fāng shì wèi tāmen dào shāyú.


Zhè shì Duterte zǒngtǒng xiànzài suǒ chǔ de jiēduàn, zhèngzài zhěnglǐ lànyòng zhě, bìngyòng zhìyuàn zhě hé jǐngchá shā sǐ tāmen. Tā kànzhe àobāmǎ, shì yīgè cóng fēilǜbīn māmā de bàn pǐnzhǒng........ Shì de, rúguǒ nǐ shěnchále bā lākè·àobāmǎ. Rùjìng yímín, tā shuō tā de qīzi shì zài fēilǜbīn. Tā shì mǎtóu zhàopiàn zhōng de nǚrén yǔ gāosēng, yīnwèi tā shì tā de zhǔrén qīzi.

Méiyǒu ānnà·Chin bùshì yīgè měiguó rén, ér shì yīgè gòngchǎn zhǔyì fēilǜbīn rén, dàn nǐ dédào de xiǎngfǎ, yīnwèi tā yǒu yìndùníxīyà de liánxì, zhè jiùshì Birther Hussein jiéshùle zuòwéi yīgè mùsīlín gōngmín.


Yìndùníxīyà shì lìng yīgè yàzhōu de wō xué, yīn wéi zhōngqíngjú bāngzhù mùsīlín jìnxíng zhǒngzú qīngxǐ yǔ Soetoro shìzú tíchū bālǐ Soetoro.


Zhè jiùshì lìshǐ, wèishéme bǒjiǎo yīngtáo dújiā bàodào,Birther hóu sài yīn gàosù fēilǜbīn zuìhòu el zǒngtǒng, shìjiè shàng zuì zhòngyào de rén shì fēilǜbīn ménggǔ, yīnwèi àobāmǎ shì qízhōng zhī yī.


Zǒngtǒng dù tè tè zhīdào àobāmǎ shì yīgè jìnǚ de érzi, bìng qiǎnzé xiàng zhèngcháng rén de xíngxiàng.


Zhè dài gěi wǒmen àobāmǎ jiāng bǐ'ěr hé xīlā lǐ·kèlíndùn sòng dào zhōngguó zài měiguó de àobāmǎ gòngchǎn zhǔyì de xiànjīn, bìng bǎ jiǎngpǐn tígōng jǐ zhōngguó hé èluósī de yàzhōu cáichǎn, xiànzài zhōngguó zhèngzài nánhǎi jiànlì dǎoyǔ, ér dé tè tè fēnxiǎng běijīng de fànwǎn, tán dào bǔ yú quán, zhè shì zhōngguó rén tóngyì de, wèile ràng fēilǜbīn jìnrù běijīng guǐdào zuòwéi dù tè tán tán yǔ zhōngguó de hézī néngyuán qǐyè, zǒngtǒng hái méiyǒu lǐjiě yìwèizhe zhōngguó jiāng kàndài fēilǜbīn zuòwéi tāmen de cáichǎn, yōushì zàiyú tāmen zài fēilǜbīn nèi yǒu bǎohù de zhōngguó rén.



Suǒyǐ zhè shì àobāmǎ zhèngquán de lìng yī chǎng zāinàn, xīlā lǐ·kèlíndùn hé jījīn huì xǐqián, yuēhàn·kè lǐ duìyú gòngchǎn zhǔyì xià de shìjiè shì duōme wěidà. Zhè shì àobāmǎ kèlíndùn chóng zhì hé guānzhù zhōngguó, yǒu zhòng guó jūnjiàn zài tàipíngyáng hé yìndùyáng hé měiguó hé hōngzhàjī qiāo xiǎngle tā.



Qímiào de bù fèn shì nǐ suǒyǒu de rén dōu bèi xīlā lǐ·kèlíndùn de zhùyì lì fēnsàn zài zǒngtǒng jìngxuǎn tángnàdé·tè lǎng pǔ, ér nǐ zhèngzài chéngwéi hé mùbiāo.



Hēi nú zǒng shì zhǐxiàng cháoxiǎn, dàn xīn de lǚxíng xiàn shì fēilǜbīn zǒngtǒng dù tè tè, tā yīnggāi zǎoyǐ zuò xià, bèi gàozhī měiguó rén cóng liǎng gè dìguó jiùle fēilǜbīn, fēilǜbīn rén shì bùjìng de értóng, kěnéng zhǐshì bèi jiāofù dào zhōngguó, suǒyǐ zhànzhēng jiàng zài nàlǐ zhàndòu, dāng tā jiéshù shí, měiguó rén jiāng chóngxīn tiánchōng dǎoyǔ yǔ yīxiē lèixíng de líng cháng lèi dòngwù shuí zài dòngwùyuán de nǎ yī cè de jiǔbā, tāmen zài.



Zǒngtǒng Duterte xǐhuān chuīxū yóu měiguó CIA bèi dài zǒu. Guòqù yīduàn shíjiān, tā huì yìshí dào yǒu bǐ sǐwáng gèng zāogāo de shìqíng, nà jiùshì xīlā lǐ·kèlíndùn de cúnzài.